Shhhhhhhhhhhh it's that time of night when all good kiddos should be asleep. In our home Easter Sunday is greeted with squeals from the kids as the trails of little caramello eggs lead to the big one at the end. If the kids would go to sleep perhaps the adults could, well, you know.. make sure things would run smoothly in the morning.
Unfortunately one boy is so hyped up on Willard Price's Whale adventure all he can think of is catching a black sailing ship with white sails to some far away ocean. The other one has just got out of bed and come to tell me he is feeling a little CRaZy and he doesn't know what to do. Sleep might fix that I suggested, but he wasn't down with that suggestion, really.
Thank goodness for little girls that stayed up til 10pm last night playing spotlight. She fell asleep in her dinner so that was that sorted. Good plan.
I haven't shared this layout yet - it's another Tarisota one - it looks better IRL actually, it flows better. Another one that outlining one of Abby's days. It was simply a case of having a pic I loved and wanting to journal and not wanting to tell he how sweet and funny she is. Because quite often she is not sweet and funny, - hey just keeping it real here - so the journaling ended up being a summary of one of her days. And those are my favourite layouts to do anyway. You'll see a lot of them coming from me. They'll never be the same because the kids change so quickly.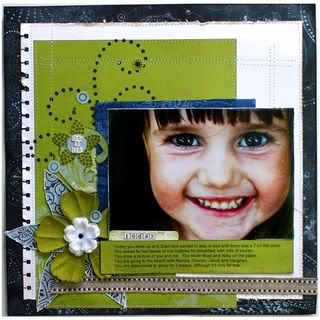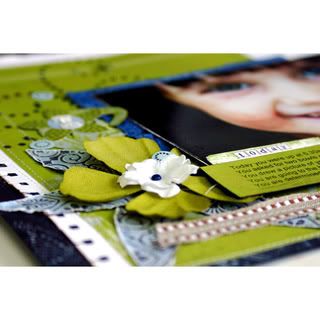 My brother, Vaughan, is in Switzerland. I always thought I was the smart one in the family but this dude is clever. He lives in London but chose to go to Switzerland for Easter. I've tasted Swiss easter choccies. I know what's going on over there. Cleeeeeever. Love that boy.
I'm a little late to the party perhaps, but there is a whole lot of fun going on at the Fiskars blog this weekend.
Kindy - ok I need help here.
A teacher (well 2 of them actually) are leaving and I am in charge of collating a scrapbook for each. I have been given a pile of kids drawings and letters wishing them good luck, a pile of photos ranging from 10years old to recent, some other random stuff and I'm meant to be compiling! Argh! So anyway. I have some plastic stationery sleeves and I'm going to make chipboard front and back covers and hold it all together with book-rings.
Trouble is. HOW - WHAT do I make this cover look like? What do I call a book with all that kind of stuff in it? *Shrug* completly lost here. They aren't scrapbookers so I don't want to make them toooo scrapbookey, ya know? But I need to impress as well. We aim to make the teacher shed a few tears so - help! Anyone? Has anyone got images or links to images that might help me? Any ideas? Fire away - I'm all ears , I'd love some suggestions. It's almost as if the scrapbook needs sections - room for the kids drawings/memories - room for pics, room for other stuff. OK I'm lost and ready for help. Bring it on. Please? I have 2 days. lol
Wish me luck!
Happy Easter everyone.
laters