Rebecca Cameron.
You are a genius. Thank you so much for taking the time to search out some ideas for me.
This is the link
you gave me and this is what I'm currently working on.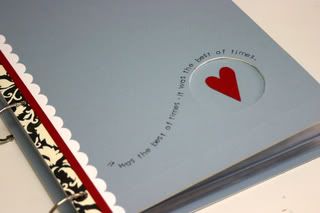 It's a total scraplift of 'Coverton' from the Simple Scrapbooks gallery. And I'm thrilled beyond words! The book is still a work in progress. It measures over 13 x 9 inches - so it is BIG and it is already full of stuff, as you can see - it'll be heading towards 100 pages when I'm finished. Many of them are drawings from the Kindy kids, and there are lots of letters wishing Anne well. I'm going to be so proud to have collated this. Thanks again Rebecca. Will update with final pics soon.
(And thanks everyone for sending ideas my way - Scrapbookers really are awesome people.)
laters