I've got an extra voice around home this morning. Jacob is due to get his cast off today so he stayed home. Mainly because the rest of the senior school have gone to swimming sports. I'm looking forward to having that cast off as much as him. It's harbouring all sorts of dirt and grime - much more than the average mother likes to see. The trick now is to get to the nurse to request that she tells him he can't keep it - before he gets to her. It'll be a rush in the fracture clinic door. lol.
More Tarisota!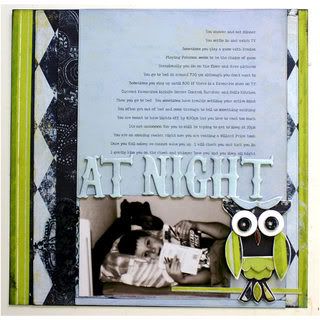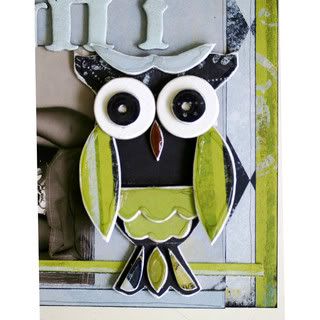 This layout talks of Jacob's nightly routine. His struggle to get to sleep and his amazing reading skills. Which in turn can really be blamed for his inability to get to sleep. What 9 year old boy lost in the african desert with Willard Price would be able to fall asleep easily.
I had a question about this layout in particular which featured on ScrapScene today (and wasn't that a pleasant surprise!)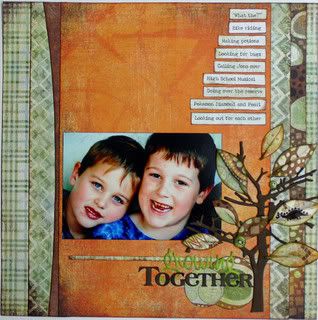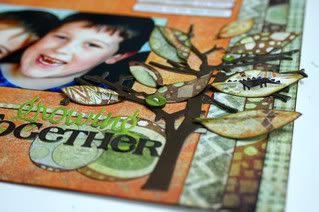 I was asked about the dimension in my layouts - I admit I do like dimension. I've always been envious of those scrapbookers that can put together beautifully graphically balanced pages. Cardstock and photos. Shapes and design. I've never been able to do that. I think of myself as more of a paper-crafter type scrapbooker. I love to cut and scrunch, change and craft the papers. I'm not neccessarily successful all the time but I have fun trying :o) So dimension is my thing.
I was asked whether I use pop-dots or something similar. The answer is sometimes. Usually not. I use tombow green glue and it sticks everything. As in, everything, my laptop keys wish I was a little more careful. If I feel something needs popping off the page, or sometimes one side of an embellishment needs boosting because the other side is already boosted by another embellishment (getting confusing now?) I sometimes just cut a corner of scrap chipboard and glue it under there. We waste a lot of chipboard from around alphas and chipboard shapes. I guess I found a use.
Ok, time for that appointment - a quick note though that Tarisota has the new BasicGrey on it's way to them and they are due to ship the limited BasicGrey FourYou Take two as soon as it arrives. (Scroll down to see it - as you scroll you'll notice some gorgeous digital downloads that Jo Kneller has been creating - amazing stuff, we are lucky to have that girl on board!).
Gotta run
Laters!