I did it - I finished the Kindy book. It took me about 30 hours probably and it included around 70 pages. Most of them were not made by me, I merely collated the gorgeous artwork and little cards etc given to me by the children, but it's done. I did scrapbook around 25 pages, but they were so simple I didn't photograph them. I secretly dropped it off to one of the teachers today and quickly took these pics before I did. Thanks everyone that helped! It's been a long process, I started by standing at the Kindy gates about a month ago asking everyone for their contributions to the book - we couldn't let the teacher know so I had to do it in secret! It's been ongoing since then. It's felt good to give a little of my time to the Kindy, I'm not often one of the parents on school trips or cooking sausages at PTA fundraisers, but I do give what I can.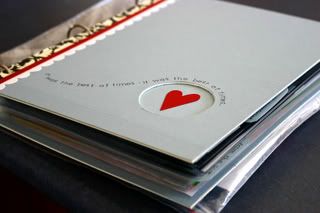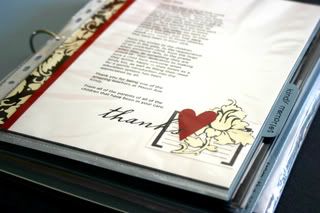 Today marks the start of the Stampin' Up! Project I've been planning. I mentioned in an earlier post that Stampin' Up! had been reading my blog and were pleased I used their products every now and again and they got in touch and said "hey.. why don't we do something.. we have some cool scrapbooking products we'd like to show people". I considered what project I could do for them and came up with something and thought why not.. So here we are.
And I was thinking.
Which is what I do inbetween scrapping.
The project I want to do is one I do for all my kids. When they turn 4 years old I make a book for them. I wait til they are 4 because at that point they start to try and write and recognise their name, they realise they have things that are truly theirs in the way of likes and dislikes etc. It's something made about a child, for a child... so simple and easy and so treasured. I have made Jacob and Braden each one of these books and they are one of their absolute loved items. They have read and re-read them and just lately Jacob asked me to do one for when he turned nine! but he's out of luck at the moment because I need to do one for Abby, lol.
(And just a note here - this was an idea I got from CKU Utah in 2001 - Lisa Bearnson did kits to make these albums as a fundraiser for underpriveledged kits - kind of like we have been doing! More on that in a few days - our fundraiser, I mean!)
So anyway, I was thinking....
Would anyone be interested in doing this album with me? It's not hard - I could give you the list of photos you'd need and questions to ask your kiddos to go in the album. Leave me a comment if you want me to do that, and I'll work through it with you over the next month or so! I don't know if anyone is keen, but I thought I'd put it out there!
Here is my inside cover page. The book itself doesn't have an embellished outside cover. It slips in and out of the bookcase and bed-side drawers so much it would get ruined. I want Abby to do whatever she wants with this book so it needs to be kiddy-proof! I've used an old provocraft album which is around 6 x 9" and has page protectors. You could use what you want.
For this inside cover page, you take a picture of your child telling their age by holding up the right amount of fingers! Wording should say something similar to what I have done. "All About Me" "A scrapbook made especially for me by my Mummy" and the date.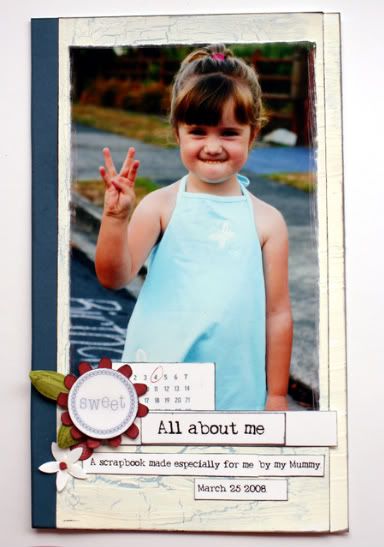 Just because I was feeling nostalgic, I crackled the background. The cardstock is a Stampin Up one called Buckeroo Blue, and most everything else is SU as well. I'll do a materials list below. I must start doing that with all my layouts because I get quite a few emails after I post them. One thing I want to point out about this page though, is the cardstock stickers. They are Stampin Up. I'm in a layering-pop-dotting-scallops and circles kinda craze and it was cool to see SU could help me out with that. I think. lol.
Materials list below. Let me know if you want to join me in this project - I'll help you out! Use any materials - use up your stash! It'd be fun!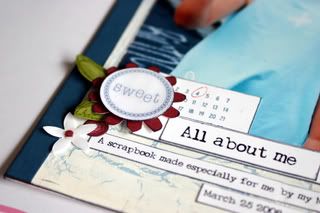 Laters.
Cardstock: Buckeroo Blue, Old Olive.
Simply Scrappin' At Home cardstock stickers.
Mixed Bouquet Stamp Set.
It's a Date stamp set.
Spring Bouquet punch.
Buckeroo Blue ink, Basic Black ink.
All by Stampin' Up!