I thought it would be calmer once summer started to come to a close but if it's not one thing it's another, and renovations on our home are taking over at the moment. Computer time has been cut dramatically as I spend a lot of time supervising the children while they watch things like concrete trucks and jackhammers etc. I haven't scrapped a page in nearly 2 weeks. I've done other stuff but scrapping, no.
I did go to the dentist the other day. I used to think people that were scared of needles needed to harden up. I thought it was all in their mind but I tell you, I lost the plot somewhere along the way and now it's me shying at the thought of a needle in my mouth. I've had plenty of spots cut out and stitches put in, and don't worry about those needles, but take one near my mouth and I'm a basketcase.
So I walk into the dentist. I nicely question her about the possibility of doing this without the numbing up bit. I must have had "complete wuss" written across my forehead because she kinda went..."mmmm...noooooo, I think we better give you the pain releif..." and she tried to go into conversation about the new type they have that doesn't numb the tongue and I responded by bursting into tears. I take back every single thought I ever thought about how silly it was for people to hate the dentist. Make room for me on that couch because, baby, I am there. I can be the president of that club, if you like, because I cried. Like a baby. Poor dentist - she was so nice. I did get the added bonus of a nurse to give me a head massage as the needles went in - that had to be worth it, right?
So anyway. I was at Ngaire's blog the other day, and she pointed me towards Mel's blog which in turn pointed me towards Fiona Carter's blog. No wonder I get no work done. and Fiona made these yummy looking cupcakes. And being the incredibly domestic person I am - my husband is laughing, why is he laughing - I decided to give these a go. So I made cupcakes. I dropped a little easter egg in the middle of them, you don't need to cover the chocolate up, it rises around it when it is cooking, and I cooked choc filled cupcakes!
So now I am the cupcake making president of the I-hate-the-dentist club.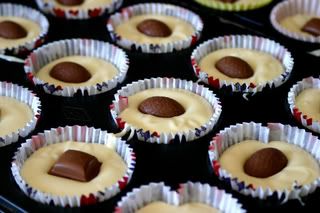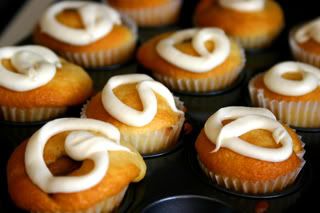 I'll leave you with some images of a wall hanging I did. I made this for a book called "Show it Off" which is about to be released in the U.S.A. through Memory Makers Books. It's all about using scrapbooking in your decor. Showing it off, sharing it with the world. Which is something we should do more often. 700-800 layouts on a shelf isn't going to be any use to anyone really. Am I the only that has that issue? yes? oh. lol. OK so I did this wall hanging. I used cheap frames from the Warehouse and I hung it from some old meshy stuff that I found in the garage, I have no idea what it's really for, all I know is that Paul has never asked after it so it can't have been important.
Other supplies - from memory they were FancyPants Designs rub-ons and maybe some WeRMemory Keepers papers. Thanks for looking!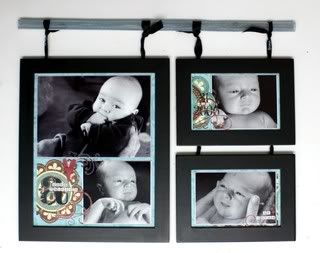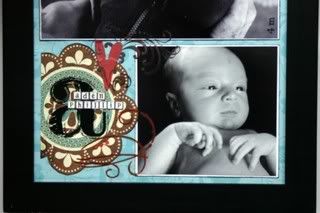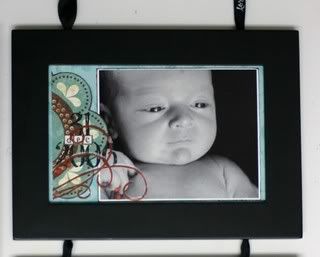 Laters.