Sometimes as I sit procrastinating over what coloured piece of paper to stick to other coloured pieces of paper in my scraproom, I wonder what I'd be doing if I wasn't so busy scrapbooking. In a past life (the one before kids) I thought I'd be a florist. Or teacher. Or journalist. I was always going to write.
And so now I think I write my blog to procrastinate while I scrapbook. Funny how things turn in circles.
Thanks for being at the other end of my writing.
I haven't had much in the way of scrapping stuff to share lately but this should change soon since I'm creating lots for Tarisota this month. I'm also itching to do more pages for the kids (click here to read more about it - and the froggie jumping his way across to the target with each page Julie receives). I'm receiving more and more pages in my mailbox every day. Thanks so Linda L, Kris, and the whole group of Timaru girls who sent me 121 pages! the Timaru package included some pages from Bronwyn's 9 year old daughter, Natasha and I swear when I got that package I said a big awwwwwwwwwwwww outloud.
This campaign to provide these kids - many of which come from foster homes - with scrapbooks is amazing and due to the generosity of you all, it's grown so quickly. Thanks to everyone that has linked it on their blogs and who has sent me pages. We still need more so if you feel like creating, read this blog post. For every 8 pages you create and send to either trina or I, you go into the draw for a prize or two.
I was talking about my quiet contemplative middle child the other day. I briefly mentioned my bull-at-a-gate oldest child. This is what he looks like right now. Yes, that is a plaster cast under that bandage. And yes that is a fractured wrist. This is a direct result of a 9 year old boy failing to judge correctly the consequences of cycling extremely fast down a hill. Actually not only did he fail to judge correctly, but he failed to think at all. I think. He did this at cubs. His words when he came in the door holding his wrist and bleeding from numerous other scratches and bruises. "This is serious". Ya think?!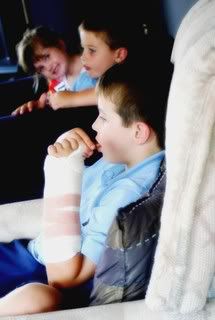 laters