We had a rough night on Thursday night. Like a responsible homeowner and mother I have probably twice the smoke alarms I probably need in this house, which is good. Except when the batteries start to go flat. Why does this always happen at night?
I was fast asleep when I heard the first 'chirps' of a failing smoke alarm battery. I was dreaming crazy dreams - you know how the dream always incorporates the crazy sound somehow - but finally I woke and realised what it was.
So I do the half-alseep-trying-to-find-the-smoke-alarm-that-is-chirping thing. I cross fingers it is not in one of the kids rooms. I don't want to wake them trying to get the battery out. I tip toe around, staying motionless everynow and again waiting for the next random 'chirp!" that it sends out. Eventually I find it. I still half asleep, balance on a chair, take the alarm down, take the battery out and creep back to bed. Crawl in, glance at the clock, it's only taken me 30 minutes to find the freakin thing, and close my eyes ready to drift back off to sleep.
Chirp.
You are freakin jokin. I'll cut the long story short by saying that apart from freaking myself out standing in the dark, on a chair with the moonlight streaming in on the scary looking Santa thing that I was sure was going to turn it's music on really loud and it's head would start spinning physco style while I desperatly tried to get the alarm down off the ceiling, it all went well. 1 hour and 15 minutes after the chirping first woke me, I crawled back into bed.
It seems that once one of them starts to warn the low battery thing, they all follow suit pretty soon after. Only a crazy woman would have gone to bed the next night without replacing all the batteries in all the smoke alarms. But guess what I did. I had a rough night last night too. Luckily last night I didn't have to go into the room with the scary Santa thing though. I swear he looks so friendly during the day. At night. Scary.
lesson learnt.
Anyway - I love that so many people put up their hands and said they'd love to have a copy of my book!!! I have a copy here all ready and here are some pics of the way I picked the winner. Yep I printed out all the comments - here is Braden jumbling them up, and then holding a winner, which he picked by closing his eyes and rumaging through.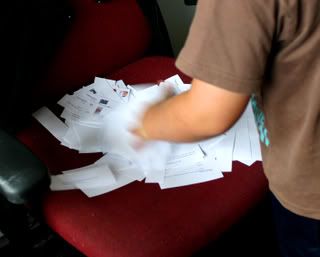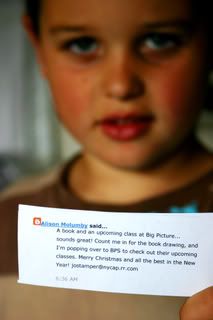 So the winner is Alison Molumby - I have emailed Alison and YAY!! I'll be sending it off soon!
Oh - as a note. (And I'm only mentioning because I was asked in the comments several times). If you are in Australia, you can order the book at Scrapboxx and you can join in on the challenges they run in the forum based around my book.
In New Zealand you can buy it at Kiwiscraps or Scrapbook Outlet .
If you are anywhere else, it sells at Amazon it runs for about $13.00 USD on there so is super mega cheap.
Thanks for entering everyone - this girl is off for a nana nap.
laters.