Local honey - that seems to be the consensus on the Hay Fever thing. Although there are many many remedies there that I will continue to refer to, and if you suffer hay fever and want to know some natural remedies, check out the comments to my last post. Thanks ladies! Ironically it has calmed down over the last few days. Fingers crossed it stays away. And ain't that
Murphy's Law?
We have a winner for the rub-ons, I randomly chose 'Siobhan' 10.09am and I have no way of getting hold of her - hopefully someone will direct her this way :o) I'll pop this lot of rubons in the post ASAP if youi can email me your address! (Email link in my profile).
So. I have a book to giveaway.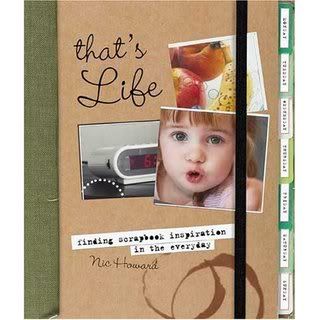 'That's Life' has been a huge part of this year for me, from the release mid-year, to the classes I taught at Crafting Connection, to the upcoming classes I will be teaching on Big Picture Scrapbooking in the new year, 'That's Life' has been integral to it all. So I'm givin that sucker away. lol.
So here is a copy. Ideally I'll be able to give this away to someone in time for Christmas but seeing how I want this to be open to everyone the world over and seeing how the guy in the big red suit comes in 6 sleeps, this may not be possible :o) Miracles happen at Christmastime but I don't think NZ post believes in them so we will call this a new years pressie.
So, leave me a comment and in a few days I'll randomly pick one and send this book off. If you already have a copy, leave your name anyway, I'll send it to a friend as a gift. With a happy New Year's message in it. Or something.
It'd be awesome if you spread the word too - shamelessly admitting it's a great chance to promote the book.
2 days left of school. I can't wait. I will therefore not be responsible after tomorrow for getting anyone anywhere on time with togs and towel washed and dried, lunches made, drinks prepared and frozen from the night before, homework done and clothes not on backwards. Thankyou to the God of School Holidays for blessing us with 8 weeks holidays. Yes. I'm serious.
One son sent off with teacher gifts yesterday and one son being sent off with a prized Venus Flytrap plant for his teacher today, I'll make sausage rolls and deliver them hot for shared lunch later and apart from making sure they get home today and back to school tomorrow. I. am. done. hello summer.
Just a quick layout share today. This one was in SM, it was a product challenge so I was only allowed to use this product, although I did sneak in the blue cardstock as everything else was 7 gypsies Black & White?! Journaling says how much Abby missed her Nannie and Grumpr when they were away in July. She used to "Ring Canada" and ask for them to be sent home now. lol.
I have this in my 2peas gallery also if you'd like a closer look.
laters