It's a busy week - I love it. Each night this week is taken up with different things and it's all based around the kids. Prizegivings, Kindy fundraisers, the Santa Parade. LOVE this time of year. I've probably said it a thousand times. It just gets busier as we get closer to Christmas! I love Christmas!
We said goodbye to Evana today - man I so didn't want to let that gorgeous lady go back home - and I'm just realising right now that we didn't any pics together.
Not so clever.
So when Evana was here we went looking at puppies. I fell in love with them as they are the same breed as the dog I had as a child. Anyone that has read my book would remember the layout in there. I totally feel the need to relive my childhood through my own children and take this puppy home. lol. I even emailed Grumpr and ask if he would babysit my new baby sometime and sent him this pic. (great photo, E!)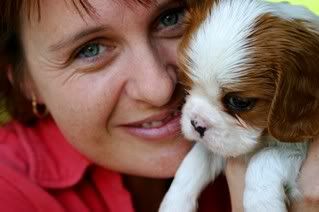 His answer? "I don't think so, Mrs Howard".
You are SO no fun, Grumpr.
I'll work on it.
OK important news from Tarisota - Tamar rung me tonight. I think she rang some of the other NZ customers too but had to stop because of time differences, lol. Tamar has had issues with getting through to her xtra customers on and off for a few months now. And anyone on xtra can relate to that... I tell ya, if I hadn't had the same email address for 9 years I would have quit the service by now ... anyway, she wants xtra customers to know that she often doesn't get emails from xtra addresses and she finds that often emails she sends to xtra customers just don't get through. Tell me about it.
Another thing - if you are on xtra - check your spam bubble! Stooopid thing that none of us really need - apparantly a lot of mail is sitting in unchecked xtra bubbles!
And you can always email me if you are trying to get through to Tamar, I have set up anothe email address so I can talk to her - and bypass the xtra thing. I'll pass messages on.
Have I shared this layout? It was in For Keeps a month or so back. ONe of my fav layouts and there is that poncho again. Love this girl!! Prima, Queen & Co, Scenic Route.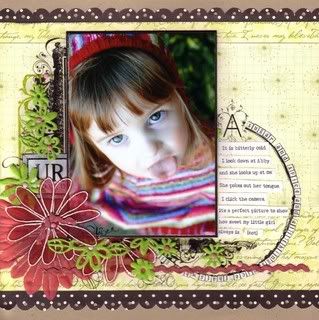 The layout is here on 2peas if you want a closer look.
Thanks to everyone that contacted me over the news about Shauna. That woman is amazing. She underwent her first course of chemo today and I know she dreaded it so badly. This course is going to be so hard on her, so thanks so much for the thoughts and wishes that I received. Shauna has recently set up a blog, you can find it here.
Hugs those loved ones extra tight tonight.
laters.