Hayfaver. Enough already. Antihistimines make me doo-lally. Hayfever makes me grumpy. I have the Christmas spirit to get into but hayfever is hindering that somewhat.
Although hubby tells me that if I drank the Christmas spirit I might forget the hayfever.
So thoughtful. And so wise. And so happy. Because he went fishing twice at the weekend. He asked me to post this photo for Vaughan to see. Reason #254 that you should come home, Vaughan... (reason #1 being that we miss you and #2 being that the lollie jar is full of purple lollies).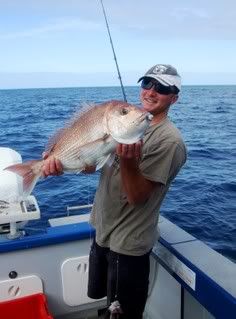 The latest issue of Scrapbooking & Cards today is out, it's a Canadian mag and it's fabulous. I have an article inside this issue - simple, detailed expert - using the same pics in different 'levels' of scrapping (meaning time spent and product used etc!) using the same products. I used the BAsicGrey Figgy Pudding, which I love - but didn't use it in a Christmas sense.

Here is one of the pages from the mag - there are 2 more in the article, you can see it all online here They have the whole mag available online - how cool is that!, my pages are in the 2nd download.
Prima has a DT call I see - I'm loving their products lately, I especially love the Iron Orchid Designs stuff, Prima is essentially known for their flowers but they do wicked-cool paper, ribbons, rub-ons, stamps etc. Anyway, DT call - including internationals! That alone earns them a tonne of respect. Details here!
Ok down to the nitty gritty, I'm giving some stuff away with it being Christmas and all - so share the love by linking others to this giveaway post... I'll be giving away a copy of my book later in the week, but for now I have this small pile of rubons, they include some from 7gypsies, Rouge De Garance, Fancypants, Deja Views, some acrylic letters from heidi Grace and some imagination Project stuff. Leave me a comment - any old thing, any comments that have cures for hayfever that don't include antihistimine are favoured, lol.
Anyway. Say Hello. I'll pick a winner in a few days and send this stuff out.
One can never have too many rub-ons.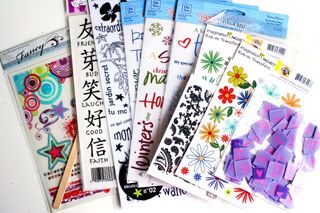 laters