Growing up is a funny old thing isn't it? We crashed a party last night - an old friend was having a birthday BBQ -
so we heard,
and we hadn't been to his place for a good 7-8 years. So we turned up. He was rapt, it was all very cool. We gave them heaps for not inviting us anyway and their answer? Well we stopped inviting you to stuff when you stopped turning up. Ahhh so true. It was about the same time we had babies. Or toddlers that quickly stopped the flow of conversation as we ran after them making sure they weren't touching something they shouldn't or weren't finding a hazard in a home not designed to house 2 year olds. It's just not the same when everybody is chatting and drinking in the sun on the deck and I spend my time following toddlers around the back yard. And so the socilising slowed or limited itself to kiddie safe zones. Finally though - finally. We went out last night and didn't have to worry about the kids so much. Even Abby. I think we have turned a corner. It was such a good feeling.
So that was one milestone and as I heard a little conversation between Brady and Paul today I realised there are many in our lives - the conversation...
Braden: "Dad, will you play in the sandpit with me"
Paul: "and um, how do I do that?"
Now I'm sure once upon a time Paul was a 7 year old boy and he spent hours in sandpits - he was bought up on a farm so no doubt there were dams to catch water and drains and fallen trees to climb and play... so when exactly was it that we forgot how? Kinda sad.
But still I'm revelling in the happiness of going out last night and not having to follow babies around :o) So it's OK.
Proud mother moment - Prizegiving on Wednesday night, here is Jacob with the 'Moorhouse Memorial Trophy for Speech'. LOVE IT! Jacob, with all the things that could possibly limit him, is such an articulate amazing kid. He speaks so well, in front of hundreds of students. When I was his age I could never speak publically. So here is a kid that faces way more challenges than I did when I was young and he can turn around and earn awards like this. Oh yea. I am a proud proud mother.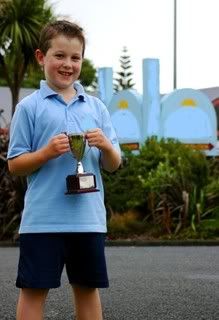 And I created this layout the very next day for Tarisota gallery - it's called super amazing boy. It's the kind of name he'd give himself if he were a superhero. And he is :o)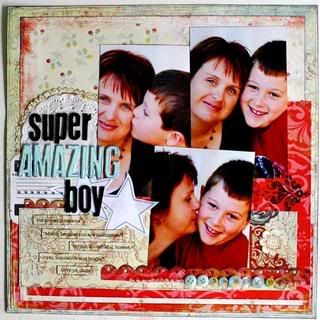 Ok - small details for something fairly exciting for me just being ironed out - excited to tell you about that in a few days.
Did you see the new leaf I turned over? No? It's the blog-more-often leaf - I really want to write more often - of course anyone that knows me in real life knows I like to talk lots about nothing, so I need the outlet. So look for me to update more often.
I want to remind you once more to really appreciate the holiday season and what you have around you. I'm not the soppiest sentimental kind of chick but I gotta get all soppy with this one. Shauna is doing it tough - thanks SO much to those of you that visit her blog and in turn send her messages of support or just a hello. It's so cool to get messages from NZ! It's like the hope goes right around the world - and I said I wasn't sentimental or soppy?! I'm still in shock that it's all happening. Having stayed in Shauna's home and spent time with her family and esp her kids, I know she is just like you and me...that's the part that really gets me. Again. Hug that family tight and enjoy the Christmas you are able to have. :o)
Laters.