Yes, this post is an ode to the cranberry, sales of dried cranberries must have tripled in Pukekohe. My family has never seen me in the kitchen so much as I find it neccessary to try all and each recipe that has been posted - "What's for dinner tonight Mum?!" "
Oh - Julie's Apricot, White Chocolate & Cranberry Slice, and for breakfast we get to have Trace's Chrismtas Cranberry bars..."
It was met with enthusasim for the first day, now... not so much. I'm kidding of course, but I have to say I have enjoyed printing out each recipe - thanks so much for those of you that posted recipes - they are printed out and just waiting ... there has been no Christmas shopping done, the ingredients for 'White Christmas' sit and stare at me longingly as I prepare the next cranberry recipe..
Here is the first one I tried, basically melted choc with thickened cream heated through, crushed arrowroot biscuits - note to self, get all air out of bag before crushing the biscuits under the car tyre, seemed so logical at the time - chopped apricots and cranberries. I'll be wearing trackpants and a large jersey yo Christmas day because that is all I'll fit. lol.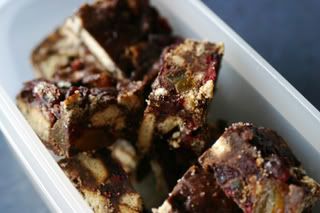 Clustermaps - fun to see where the people are logging in from, but perhaps embarrasing that Jacob knows where more of those dots are than me. What continent is what? Look of disgust from my hubby at my total geographical ditziness.
So I'll treat this as an educational aspect to the blog. If you don't know what I mean, scroll down to the bottom of the right sidebar to see the world map. So interesting. Vaughan I wanna see a dot from England.
Tarisota Gallery - the kit this month had a door hanger in it. We figured Santa didn't need a door hanger to tell him we want him to leave pressies, as if the big flour circle on the lawn with the carrots and can of Steinlager in the middle won't be a clue on Dec 24th so I decided to make a door hanger for Jacob. He already had a note on his door that said "Please do not disrupt, knock before entering" so I made him a hanger that said the same thing.
According to Trina we need to sign up for the SBO newsletter because something big is happening soon?
BIG news for some NZ ladies, joining the Fiskars team - the post is here on the Fiskars blog which has regular comps running all the time I found out. So anyhow, congrats to those NZ ladies!! It's incredibly cool that the market is there in NZ to have such a fab team of ladies out and about promoting Fiskars and Scrapbooking. THAT is very cool in itself!
Thanks for the congrats on Big Picture Scrapbooking - I'm excited and it's anothe example of scrapbooking in NEw Zealand growing, as we have a NZ retailer involved, which means it's being catered especially for US. Go us. It's a long stretch from 9 years ago when I started scrapbooking and would have climbed Mt Everest if there were Pooh Bear stickers at the top and they were Acid Free.
And now I have too much stuff. Apparently. Because over the next few days I'll be doing a post to give a few things away. Including a copy of my book which has been sent to me for promotion. Heck, I'll give that away too... Check back in the next few days for details.
laters