School holidays. Love the school holidays. I can get up, get organised and get into the day without worrying about rushing the kiddos along. Abby gets playmates and I enjoy everyone's company. We don't do anything spectacular in the way of day trips, we save those costly day activites for birthdays etc. We do plan on having a few half days of good old fun though - DVDs and blankies, pillows and popcorn. Maybe 10 pin bowling. Picnic at the local playground. Paul is mostly excited about the prospect of taking the kids whitebaiting. We used to enjoy the hike through the forest down to the river before we had kids, I guess we get to share the joy now. I'm not share it'll be a joyful experience with 3 kids. We will see. Here are the kids enjoying a out-of-the-blue rain burst we had yesterday. Gotta love spring, huh?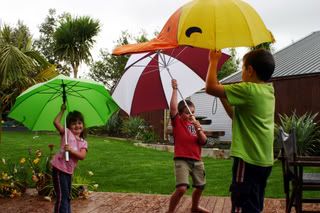 And our attempt at a family pic yesterday. I swear I have just about the shortest arms in the house, why I was holding the camera I have no clue.

A couple of DUH moments yesterday while scrapping a minibook assignment. Trying to sand the paper around the holes in the chipboard for this cover when I realised DUH I have a punch that was actually probably designed to do this very job. lol. I was too carried away using it as a border punch etc that it kinda escaped me that it had a real job. Binding holes must be fairly universal because it fitted perfectly.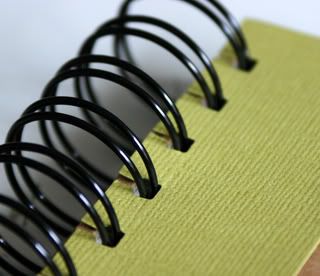 The other duh moment involved my corner rounder and remembering that Lianne told me you can use it to create a scallop border. Am I the last one to try this one? Loved it. Apparently there is a video tutorial here on the CK site, but I can never get the videos to load.
Everyday Garbage. Another new dare site. Challenge site? Anyway - this one is kinda cool to browse. I don't know how much of it I'd put into practice, but I have to admit these girls have some cool creations. Love the vegemite layout.
LAters.
Edited to add: The Stampin' Up! promotion janine is running finishes tonight - email her if there is anything you want or if you want info about anything. She has the giveaways for anyone linked from here.
Details are here.