Productive. Yes productive. That was thhe word I was looking for. Although finding the right word was not exactly an enabling factor - I woke on Wednesday morning and felt like I'd been run over by a truck. It was just a cold though and finally this morning I feel back to normal.
So as usual, even though I was feeling like.. trying to find a nice word, nope there isn't one, even though I was feeling like crap, the day carried on as per normal. Motherhood isn't full of "Thank You" and "Wow you are doing a great job" and I think that is kinda hard on a Mum. And when we are sick, we carry on.. the only difference being that we know that the tissues are in our pockets so we don't get that nasty tissue explosion through the wash surprise when we go to hang out the washing. Unless you are like me and forget to take them out of pockets and that happens anyway.
The kids came home from school yesterday. Braden dumped his jersey in the middle of the floor. Right in the middle. I walked over and pointed... "what ? is this?" He looked at me "Oh, that's for the maiden to pick up". And he walked off.
At least I have been promoted from a maid to a maiden at some point recently.
Anyhow - scrapping stuff - Tarisota BasicGrey Four you limited collection sold out. Twice. I'm not sure if the instructions will be available by themselves on this collectiopn but keep checking back. I spent all week on this one. I don't think Tamar has released sneak peeks so I guess you saw them here first.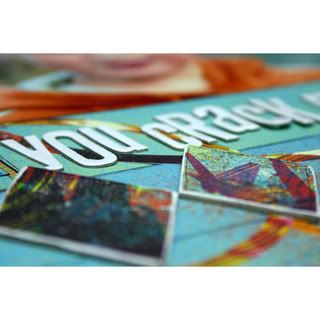 And my favourite collection? It's currently a tie between Mellow and Obscure. And then Periphery. And no Robyn, there was no prize for selling out - what is up with that?!
Regular Tarisota gallery is up too. This is a layout I created for that. Love this pic. It was taken as Abby sat on my desk beside me, she was actually waving a piece of cardstock around while she was looking down at my layout.
Vivian Bonder is guest designer. Flippen love her projects. As always.
There is a cool technique on the Queen & Co blog involving laminating the sassy sequins.
Happy first Birthday to Evana's wee boy, Joel for tomorrow.
And Happy birthday to Trina's little Daniel for yesterday!
OK, something that people have been asking me about. There are supply issues for my book in Australia but I know Blue Bazaar will have it in stock again very shortly. I hear rumours that Maria at Scrapboox will be stocking it too, so keep an eye out there.
I'm a proud book mama at the moment, it has been floating around 3rd-4th on the bestsellers list for scrapbooking books on Amazon (and trust me, there are hundreds). It has been sitting at about 9th-12th on the bestsellers list for all craft books - there are thousands of those. I'm so proud! Reviews have started popping up if you scroll down on that amazon page, kinda exciting :o)
9 more weeks til Canada!!! woohooo!!!!!
Sadly my brother left Canada yesterday and is now on his way to London :o(
OK, I'm off to a crop and I don't think the ladies will appreciate me turning up in my night-time t-shirt with my polar fleece blankie wrapped around me. The rest of the house has slept long enough, time to make some noise.
laters