By now a lot of you know that the little things often fascinate me. Those that have read
my book
most certainly know that it doesn't take much to amuse me.
Yesterday I was amused by something the guy at the telecom shop told us a while back and I only just thought about it. He told us to bring in our old phones and put them in the bin and they are taken away and any that can be made to function are donated to 3rd world countries. At the time I thought it was a good idea, we have several old cellphones kicking around the place. Then it got to bugging me. What would 3rd world countries do with cellphones? Hey it may be a huge slice of naivity and ignorance on my part but the telecom guy was indicating the type of countries that often need aid in the way of food, items to help with schooling and medical supplies to help break some of the epidemics that currently run rampant in those sorts of places. And cellphones?
Anyway. More things that amused me over the past day. My hubby studying. When I met him I never thought I'd put those 2 words in the same sentence. Proud of this man.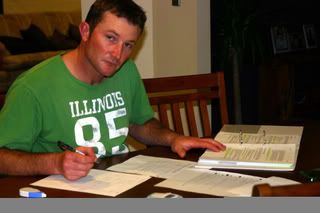 Jurassic park. My kids built this together. All 3 of them. I don't know how long this creative play lasts but I'll enjoy it while they are young.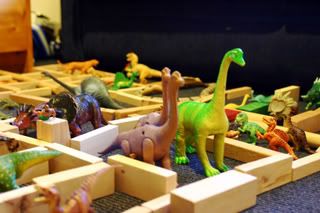 Something else amused me - but I'm not going to post pics here was Abby - I was busy today and came back into the lounge to check on Abby and there she was in her togs (it's winter) and she has a toy machine gun around her neck and she was stalking the dinosaurs in Jurassic Park. Disclaimer: Paul bought the $2shop machine gun when he was looking after the kids one Saturday. Not my choice of good educational play equipment. Abby did look cute in her pink togs stalking the T-Rex with it around her neck though.
Hey - Tarisota BasicGrey Four you - I'm told that you can buy just the instructions for the four layouts now...
Should be a good mail week this week, I have lots of goodies arriving to create final class samples for Crafting Connection with. CHA felt from Queen & Co for a start... it's about time I showed you all sneak peeks, they won't be far away if the mail week is as good as I anticipate.
Hey - I have to say thanks to those of you that have taken the time to leave a review on Amazon. I often get emails about my book, but it'd be really cool if you left reviews if you feel you are up to writing a few lines. Click the Amazon book link to the right