Well we've done it. We hit the negative outside temperatures this morning. The sun is just coming up and I expect there is some wicked frosts forming as I type. Should make for great photos. Should make for a cold walk to school. One son will love it. He will revel in the cold. He will jump in the ice and laugh at his foggy breath. The other will whine and moan all the way how cold it is.
I will secretly agree in my mind but pretend to be brave.
Abby will be so rugged up in the stroller she will have no idea it's even cold.
I didn't share much from the last box of Tarisota I worked with. It was the "Life is beautiful" Collection and here is one of the layouts I created.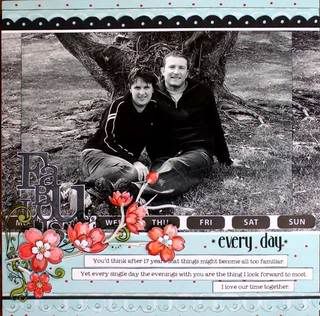 That's an old pic taken down in Wellington years ago. That is still my favourite jersey. How sad is that?
I have the August Collection of Tarisota with me now. It's more my colours and I'm excited to play. Sneak peeks are on Tarisota website already.
My big mission this week? Finalising classes for Canada.
Also pulling together my products and finalising details etc for Crafting Connection Nov 2007.
If you are thinking of going to this, register as soon as you can. At this point the classes are normally evaluated and some are made bigger, some are made smaller, swapped around within the venue etc it all makes a difference to what product I decide to grab in for the classes.
I have been asked personally what my fav of my three classes are. With Freestyle I had a definite favourite. This Crafting Connection I am thrilled with all three classes and seriously couldn't pick a favourite. I also think I'm more excited about this event than I have been with the other Crafting Connections. The way it is structured, the time left available to socialise, how flipping confident I am in my amazing classes. lol. It all helps.
Happy crunchy frosty morning to you. Do I light the fire now while the kids are home and they freeze their bu tts off more when they go to outside? Or do we all sit in this freezing home and bear it until the kids have gone to school and I can light the fire. Ahhhhh dilemmas.
laters