Is it just me or does the world move too quickly? Just 6 months ago it was the Summer holidays and I had an extra 'son' almost permanently in my home. He was a neighbour, 12 years old, and he came with all sorts of tricks and games. As the youngest in the family by quite a while he enjoyed being the big kid. He taught my boys how to play some amazing games. Instead of just playing with the b.d.man, he pulled them apart and set up a b.d.man warehouse and he taught them an imaginery game to win them back, piece by piece. He played yu-gi-oh cards. He wrestled, he taught them touch rugby, he even taught nearly-3-year old Abby a few things. Mostly though, he taught my boys respect. For each other and for their toys. How to count the balls in the b.d.man so that they knew to find them all at the end of the game. How to count the yu-gi-oh or Pokemon cards and locate them at the end of the day so the deck was always full. He showed the boys how to save up to buy something. His pride being a 'drift' remote control car. He loved that thing. Tamagotchis. Those boys were obsessed. All 3 of them.
I guess I got used to having him around.
So he started high school this year and I knew it would happen, things started changing. He tried to sell my boys his Tamagotchi's in March, I said no - secretly hoping he would realise in time he doesn't have to go along with the high-school-cool thing. He turned 13 in April.
Tonight he rang and asked the boys to go over. My boys were in their pajamas at 6pm but trotted over, so cute. They both came back with boxes of toys.
They tipped them out and squealed with delight as all their favourite toys fell over the floor. The b.dman that the neighbour boy had bought with his Christmas money. The decks of Pokemon and Yu-Gi-Oh cards. The McDs Pokemon toys he begged us to grab when we were taking the kids there for dinner one day. My mouth dropped open as I saw his drift car.
And there at the bottom of the pile were 2 dead tamagotchis.
My boys were in heaven. So many toys. they couldn't wait to put new batteries in the Tamagotchis. I really don't know if they realise what it really signifies. I sit here with dinosaurs, b.dman, pokemon stuff all over the floor and can't help but feel incredibly sad.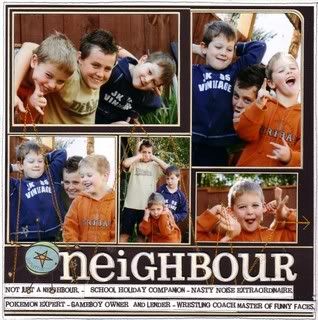 laters