What a mixed bag this last few days has been. Thanks for your comments on the last post, I'm still not over it!
What has taken up a lot of time in the last few days for me? Read the whole long story here . Nutshell for those that don't want to click the link is that the whole of the Queen & Co Dt artwork went missing at CHA. Not fun. Annoying and frustrating actually.
Mum and Dad are back!! YAY!! You didn't know they were away? No, that is because I didn't mention it, but they were away for a month and Abby and I spent a lot of time together :o) Love the girl. But she loves having Nannie to play with too :o)
Shark boy had his tooth out the other day. It was a quick fix, he braved the injections like a trooper, left the tooth out for the tooth fairy, she left him $1 and no glitter and he woke in the morning, didnt say a word, just put the $1 in his money box. Kids can be so different!
Ok so I have a few more BG layouts to share. This one is of Aden, my nephew. It is done with the new Recess papers from BasicGrey and this layout was on display at CHA. This is one of the favourites out of the layouts I did for them, I think.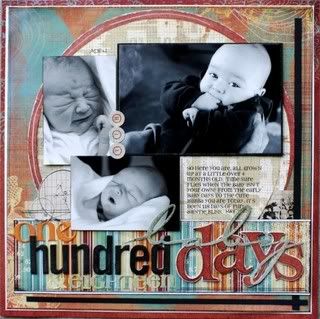 I have another to share with the Mellow line I think. I can't find the jpeg right now. It's filed somewhere safe.
Laters