The wood fire is my friend. With the temperatures between 8-12 degrees for most of the daytime lately, and down to 2 or 3 degrees at night, and as a self confessed wuss when it comes to the cold, the woodburner and I have become extrmely close. The kids went out to ride bikes this afternoon. Although we live in a cul-de-sac, I still go out and sit out there to make sure they are avoiding the cars backing out of driveways etc. Well today I just didn't cope. I found the most sheltered spot, and sat and shivered. I called the kids in after about 45 minutes and that was it. I stayed inside. So did they.
And then Mr Whippy drove down our street and parked outside our driveway. Cos he knows we are suckers for icecream. His merry little tune played, bringing back instant memories of summer at Hahei beach and Mr Whippy Icecream at 6pm outside the campgrounds every night.
BUT who did he think was going to buy icecream today? Seriously.
I have some big weeks coming up. I have some cool assignments - some of them(yet another MM book) pushing me totally outside my normal zone. Totally outside of my 12x12 square. It'll be interesting.
I also have some pretty special visitors coming to stay and crop at my home for a weekend in 2 weeks time. More fun. Pressure's on to get everything sparkly and clean.
Hey - look for Kiwiscraps to release their class descriptions/registration details for CC07/November with Stacy Julian and friends - that's happening really soon. Watch the Kiwiscraps forum for details I guess.
Did you see the BasicGrey newsletter?
I have a layout in there, and Evana has her Basicgrey ribbon bags. She sells those bags - messenger style kinda - I had one with me in Sydney, love love love it and woohooooo that basicgrey snaffled up one for their newsletter!
Just a few snaps from the weekend - Abby helping out in the garden yesterday with a poncho on that is extremely distinctive and she doesn't take it off. So all my layouts of her will look the same for the next 6 months. (yep, she looks cold, huh?)
And Abby taking a pic of Jacob with our little camera. I love the pics the kids take. I download them all and I'm sure in some way I'll scrap them one day!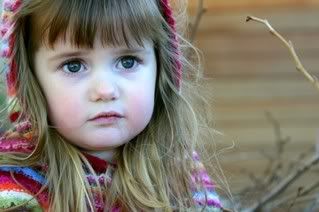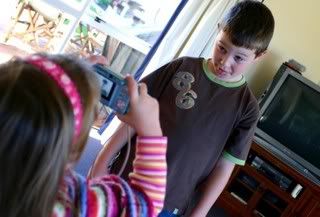 laters