And then all of a sudden it was Wednesday again. I've spent today doing taxes. I hate doing taxes. Paul and I own a small business so I spend far too much time doing taxes, PAYE etc. How can the time to some things drag so slow, yet it seems every second day is GST day? OR PAYE day? Or today is was end of year tax summary stuff. I know. I need to stop before I make some of you physically ill. Seriously. Enough already. Anyway - the reason for my absence -
was not that I was too busy making batches and batches of M&M Dream bars as you suspect, although that is true also
... but it was Tarisota pizza box time. You can tell when I have a
Tarisota box
in the batcave ... I hardly surface to do anything. My months seems to revolve around that pizza box now. Moulin Rouge is this month's theme. Loved it. Just finished uploading tonight. (You guys get to see it on the 8th, I think?) Did you know
Tarisota has gone digital...
Tiffany Tillman (USA) has joined the team. They are going all techo on me. I'm a digi-loooser so I'm hoping I may learn something? There is hope... no? lol ok maybe not.
I have some layouts that have been posted on the Aussie Scrap Source blog to share. Tinkering Ink. Not my most fav range of papers. I struggled. Lucky for me I had Lianne to help and Lesley and Trina in the background cheering me on. This layout is not my usual. It's tooo patterned for me. Too busy. I'm a sedate kind of gal really - but here you go. That gorgeous baby is my nephew, Aden.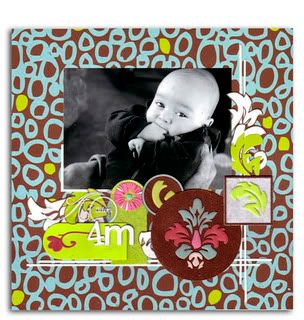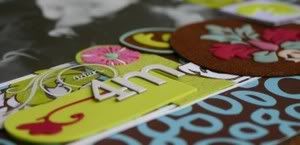 And another LO - this time it was a Strano Ribbon Stiff assignment - seriously, who thought of that name, guess it tells the story - but anyway, this stuff is very cool. I painted the ribbon and twirled it around a pencil to dry and it stayed totally curled. I looped the petals around the pencil and they stayed looped. This stuff is cool.

Brief stuff : Danielle Thompson had her bubba. She may not scrap anymore, but she still inspires. Love the colour on her blog. What colour? Just all of it - pics, photos, just everything.
Keisha - I hadn't visited keisha for a while - I forgot how incredinly inspiring she is.
Emily cards - Ok so she is up to number 22. I have done. um. 6. AND I am making up my own subjects as I go along. Emily loves creativity. I'm sure.
And finally. I'm DONE with the lack of light. You know, I can handle that it is currently 12 degrees outside. That's OK. But I don't like that it is sunrise isn't until 7.31am and that it is gone by 5.14pm. Bring on that shortest day! Then at least the days will only be getting longer, right? (BTW I have the coolest little website here that shows the exact weather in pukekohe where I live, like right NOW .. love love love this website...)
Whoa. Long post. When it rains, it pours.
laters.