I don't think I ever showed any of my
Tarisota gallery
layouts. Bad me. This is a layout from the Moulin Rouge collection. Six and a half, actually.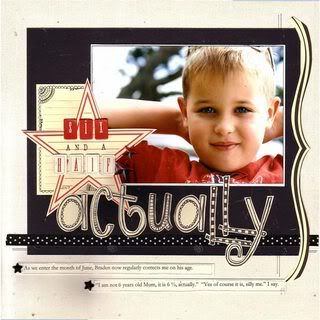 Shortest day is on it's way - I normally celebrate by shouting myself a professional window wash. lol Best $65 I spend all year. Gets rid of the window mouldies. Inside and out. Must book that in. I have heard of people buying themselves flowers on the first day of spring etc, for me it is a professional window wash. I'm not sure if that is sad or really quite clever. Nothing like all the windows being clean at once. For a few days anyway. I'm sure there is a layout in that.
Did you know that Invercargill gets an hour less daylight than Auckland at this time of year? Reason number 2 I won't ever move to Invercargill. Shortest day being Friday I think? We get a whole 9 hours of sunlight that day and a polar blast is forecast that will see windchill below zero. Even in the North Island. I am so struggling through winter this year. And it's only just begun.
Hey cool thing - Tia used one of my layouts as inspiration for the 2peas garden this month - take a look here. Crack me up, Tia got a little zealous with her creating and apart from the fact that we both have large circles and clocks, I think they are really quite different. I'm flattered though.
OK crack me up. Aussie Scrap Source has "meet the design team" and this week it is me. I have some of my fav inspirations there as well as 2 layouts I created to try and reflect my style. I'll post them here in a ew days, in the meantime, here is the link if you want to peek. I have a layout by a few of my favourite scrappers there too.
16 days til my book releases in the U.S.A. :o))
laters