Been a busy day. I've been creating macrame plant hangers all afternoon. lol. Kidding. Paul and I have remained encouraged and involved in our respective hobbies, although Paul has sworn himself off alcohol until the Warriors win. I warn him that Steinlager may go broke waiting. I'm still picking the daggers out of the wall behind me from the looks he gave me.
It's past the 10th of the month so my new class is up at Aussie Scrap Source. It's called Flourishes and Flowers ...I love this one.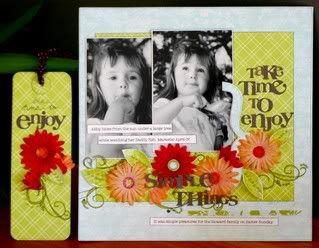 I've been making layouts for the Aussie Scrap Source blog this week, they've made a few changes over there and one of the new features is a '4 products, 4 ways' kinda thing. Suz picks 4 specific products and 4 of the DTers create something with it. The first one is up now I think? Anyway - something new goes up every few days.
There is also a detailed bio on Chris Millar (who is in NZ soon - YAY!)
Hey talking of talented Aussies - congrats Loretta Grayson on becoming a 2peas Garden Girl.
A quick shout out to Sherry Steveson I need to send congrats her way and good luck too - lots of it, lol - as she ventures on her own journey into sole authorship of her own book. Click the link to her blog to learn more about it. I'm contributing artwork along with 7 other ladies - fun fun fun. I haven't started on my pages yet. Clearly I need to wait til the very last minute, nothing is as much fun when there is plenty of time left.
Interesting random useless piece of information for the day - Cadbury have changed the packets of Freddo frogs to 12 in a pack. Each freddo weighs more. Why. Why would they need to do that?
laters