Well the shortest day has come and gone
and thank goodness for that.
Send me some sunshine already.
We had a slow weekend - well the kids did. I worked fairly steadily at various tasks. Including Paul's assignments for his study. I don't know that it was really what his tutor had intended when he sent those assignments home with Paul... Also, more taxes. Surprise surprise. Cleaning. No prizes for guessing that, and I scrapped a lot as well. I have been doing the occasional assignment for For Keeps (Aussie Mag) and really enjoyed a layout I did for them over the weekend.
Anyway. Other scrapping. I'm doing this journal where I write diary entries every day and I take a few pics. I am putting them all in a journal. I started this for the June Tarisota kit.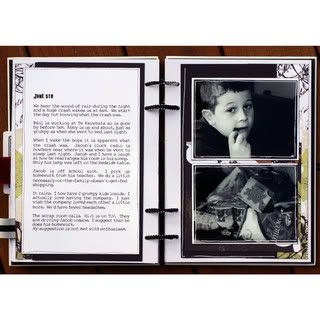 No exciting amazing design inside the book - just diary and snapshots.
BUT those of you that have attempted such projects before should have warned me about how hard it is to do. Esp in winter when we dont ahve all the social activities etc. Oh. My. Goodness. I am BORING. lol. 30 days of trying to say different stuff and take pics that look different. It's not as easy as you think.
Soooo will be glad to see the end of June :o)
I'll end with a snapshot from last night. Kids in Jammies, Pokemon books in hands, in front of a roaring fire.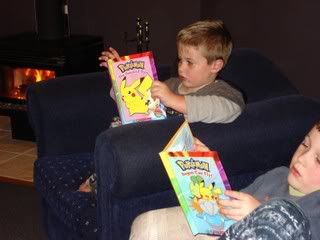 laters