The days are passing faster lately, don't you think? Just an observation from late on a Thursday night, when I can't beleive that it IS thursday night.
Perhaps it is that yesteray seemed like summer, I'm still nursing unexpected sunburn from the weekend, yet today it was dark at 4.30pm and it is 8 degrees outside. Welcome to New Zealand, Tia, Emily, Kim and Rhonna. Auckland sure put on a nice day for it. (sorry!).
So - it is the day before , the day before the Freestyle event in Auckland. I'm a lot more excited about this than I was about CC06, I have nooo idea why, perhaps it is the amount of fun (man that sounds so cliche, but it is true) I plan on having in the classes, or just because it's my 'hometown' or.. I dunno.
BUT a note for anyone attending my Ransom class - and I have said this before, but I need to say it again... bring a 1/8 hole punch if you can..those of you on yahoo groups etc that might have people going to my Ransom class... please spread the word :o) Thanks.
So talking of Emily, here is my last Emily Card... I'm way out of order here.. I dont think I have shared this one. "Things I miss". Photo by the gorgeous Evana Willis (MISS YOU!!)and everything else comes from the April Tarisota kit.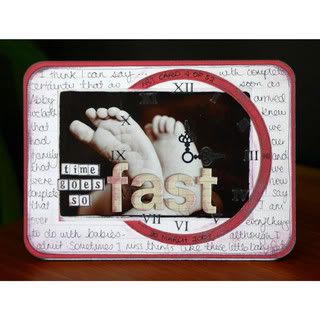 All for now - see some of you over the weekend!
Laters!