Anyone else have those delightful little electronic pets in their home? My 2 boys both got Tamagotchis for Christmas. Best. Present. Ever. These little creatures became Jacob and Braden's best friends. Their pitiful little 'feed me' calls were barely audible by the regular person, yet my boys could hear it miles away. The tamagotchis were named. They were nutured. They grew up. The boys practically had puppies when the Tamagotchis evolved to the next level. They even grew into adults, fell in love and had baby Tamagotchis. And then school went back. And good old Mum (that's me) babysat 4 tamagotchis every day for the whole of term one. And to be honest, I kind of became attached. As much as one can become attached to a small electronic toy. I too, soon became atuned to their tiny tinkly callings. So the school holidays came, and perhaps those two boys were a little too attached to Mum looking after their tamagotchis, because they were somewhat neglected. And after 68 days, Braden's grandpa tamagotchi died. There were tears. Poor Braden was devastated. It was sad, I was sad. Yep, it was a sad little time.
Once grandpa died, the boys seemed to loose interest. The Tamagotchis were left. slowly getting sicker, but I refused to fix them, they can't rely on Mum to look after their toys. And so now we have 4 dead Tamagotchis. Why is it I'm the only one that is sad?!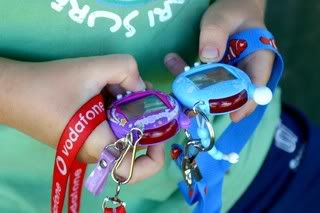 So anyway. I am looking forward to Sydney, I travel next Thursday.
I've been busy with the next tarisota box, and Aussie Scrap Source assignments. I'm not sure I shared all the Tarisota stuff from last time. Here is a layout, more pics by Evana. Extremely talented chick.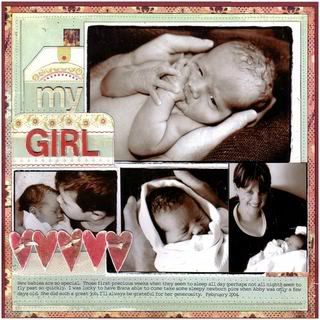 laters