I hear the tapping on my screen, yes I am still here! Just busy.
Tarisota gallery
just went up all of about 5 minutes ago and so I was working on that. I had a lot of fun with the chipboard and other goodies this month, although this is my fav layout probably. Very unusual compared to what I usually do, I had to put my
Andrea Senn
hat on before sitting down to create this one. I have so much respect for those of you that scrap with a lot of white space and manage to create such calm serene layouts.
Suz Doyle
and
Donna Wild
are 2 more ladies that come to mind that scrap this way.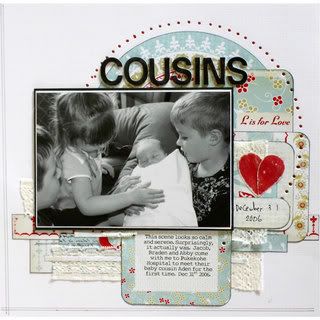 And so we are in the middle of the Easter break - it's been a fab weekend so far and THANKYOU to those of you that emailed and asked about Jacob, the dental nurse gave him 3 different injections into the roof of his mouth and up under the top lip towards his nose, he was soooo brave, and she pulled that tooth right out. It has been about 6 days now and already there is a good 3 -4mm of big tooth through. The dental nurse said the baby tooth would have stayed right there for months had it not been pulled out. I have never heard of that situation before. And yep, jacob handled it like a trooper.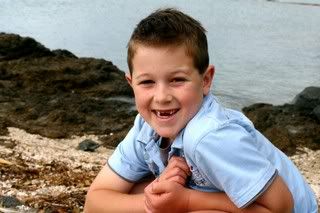 And so one of the highlights this weekend has been paul trying out his new 'softbait' rod - basically you don't use smelly bait, you use rubber bait (biodegradable, which is good, cos Paul lost 3 lots of it in the rocks at Maraetai).
Love this pic. Love that Paul and Jacob are doing something they love together, and I love that I clicked just as the bait hit the water. I timed it well. Totally unplanned, but timed well.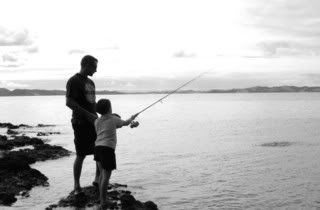 A big week for me, with this post on ScrapScene. I get scrapscene delivered to my mailbox every morning via email, I learn all the stuff that goes on behind the scenes. love it.
And I'm going to point out this thread on 2peas . Mainly because it has all the contributors linked there. I don't know if they have all been fully 'outed' for their part in the book. (thanks ladies!).
Finally - hands up who is sitting in on my Ransom class at Freestyle?!! Ok it doesnt say anywhere but if you have to bring a 1/8 hole punch if you have one PLEASE!!! If you know anyone sitting in on this class, please let them know!? thanks - my fault it isn't in the tools list - it was case of blindly picking it up, creating away and putting it away and forgetting I even used it. Which meant I was having fun, but also meant it was left off the tools list. So pass the word around please!
I lied. That wasn't finally THIS is finally - do you all check out the Aussie Scrap Source blog? That thing is chocka full of inspiration. And updated regularly. yea I'm a part of the DT there but I still check back every few days to see what has been placed up on the blog. Cool inspiration.
laters