It's been an interesting - busy - day. Sad to see the kiddos go back, I love the busy-ness of them around the home. It all seemed so quiet today.
Tonight I saw an ad on TV for the Ch1 programme "Fair Go". It seems there is a story on there on Wednesday night that any scrapbookers amongst you might find insteresting. It is in regards to the Chatterbox 'Make it Meaningful' competition that I was finalist in last year. I know a lot of the story already but I'll leave it up to Fair Go to tell it properly.
I posted another 'Emily Card' today, as in, I literally posted it. So far NZ post is doing a mighty fine job of taking my cards, giving them a nice postdate on the back and delivering them back to me. The postie probably thinks I'm nuts. Hey. She could be right.
Here is another card, Tarisota fabrics etc, again.
Yea, I'm doing them way out of order. this one is 'ephemera' - this little card is the one I got in my Tarisota box.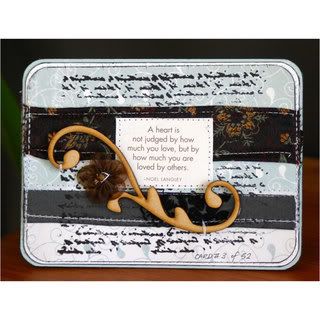 Queen & Co blog I'm updating this regularly with more ideas, layouts etc, we have had a DT shuffle and new aims for the blog etc, so keep an eye on the Queen blog.
Aussie scrapSource blog has been updated recently with fabric layouts. I worked with some pretty bright fabric layouts.
3 sleeps til I fly out to Sydney...
laters